P.F. Candle Co. Mini Wild Herb Tonic Soy Candle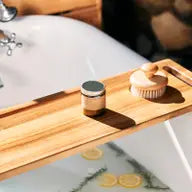 Wild Herb Tonic soy candle emits a natural, camphorous aroma enriched with notes of lemon balm, crushed thyme, orange rind, and fir for a refreshing, earthy experience that evokes feelings of a walk through a wild herb garden and bathing in a cool mountain stream.
P.F. Candle Co. candles are made with 100% domestically grown soy wax, fine fragrance oils, and cotton-core wicks. The fragrances  are paraben-free, phthalate-free, and never (ever) tested on animals.
Size: 3.5 oz 20-25 hr burn time