Soups, Stews, and One-Pot Meals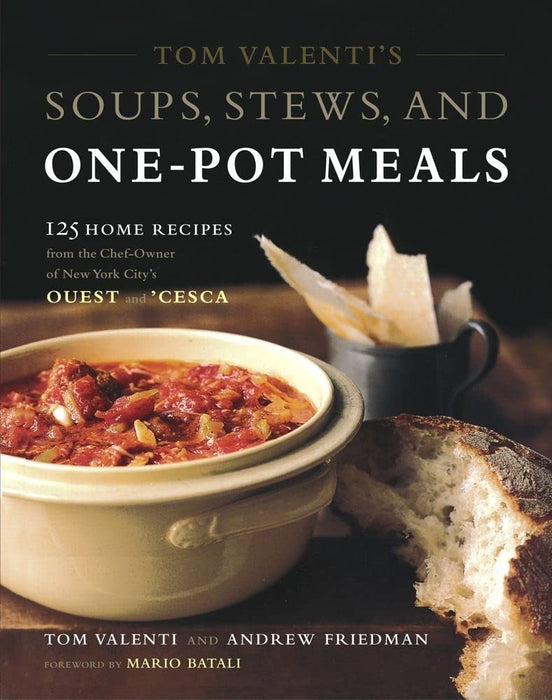 This is the way we love to eat -- slowly braised, cut-with-a-spoon-tender meat resting in aromatic juices just waiting for the perfect piece of bread to come along and sop it up; a steaming bowl of chowder filled with chunks of fish and potatoes in rich broth laced with the smoky-sweet-salty flavor of bacon; a casserole that's spent some serious time in the oven as layer upon layer of creamy, soft cheese, pasta, herbs, and meat meld into a delectable whole.
And as luck would have it, this is the way celebrated New York City chef Tom Valenti
loves
to cook. Considered Manhattan's grandmaster of comfort food, Valenti has made this beloved cooking his trademark. In fact, on any given night, you'll find him in his wildly successful Upper West Side restaurants Ouest and 'Cesca feeding the world's A-list -- Bill Clinton, Steven Spielberg, Charlie Rose, Jerry Seinfeld, Judy Collins, Joan Didion. Because, of course, this is the food they
love
to eat, too.
In
Tom Valenti's Soups, Stews, and One-Pot Meals,
Valenti and coauthor Andrew Friedman dish up the flavor we've come to expect from a New York chef, without any of the fuss. This is food that gets better a day or two after it's made, food to make on the weekend and savor throughout a busy week, food that is perfect for dinner parties and family celebrations.
Here are 125 realistic recipes for the home cook -- most made in one pot -- and all based on the fact that the right ingredients, left alone to cook in a single vessel with virtually no intervention from the cook, steadily build glorious flavor and leave far fewer pots to clean.
The book includes "Variations" and "Tomorrow's Table," tips on ways to embellish a dish by adding vegetables or meats or provide economy by stretching it into another satisfying meal by simply adding another ingredient. Valenti and Friedman embrace what they term "cooking in the real world," encouraging home cooks to use canned stocks and beans whenever appropriate. They discuss key ingredients; offer a section on condiments, garnishes, and accompaniments; provide a list of mail-order sources; and recommend cookware (though you won't need a lot).